SLCS
(An Autonomous Institution | Affiliated to the Madurai Kamaraj University & Reaccredited by NAAC with B+ Status)
College Run by
Dr. R . LAKSHMIPATHY
Joint Managing Editor
"Dinamalar"  National Tamil Daily
Welcome to Subbalakshmi Lakshmipathy College of Science
Subbalakshmi Lakshmipathy College of Science is an autonomous self-financing college affiliated to Madurai Kamaraj University and accredited with B+ status by NAAC. It is run by Subbalakshmi Lakshmipathy Foundation (SLF), a charitable trust initiated in 1989 to promote job-oriented education on a non-profit motive basis by     Dr. R. Lakshmipathy, a doyen in the Newspaper industry. He is the publisher of the largest circulated Tamil Daily "Dinamalar" and also of the Medical Magazines, 'The Antiseptic' and the 'Health'.
SLCS became the youngest self-financing college from south part of Tamilnadu to receive autonomy in 2006 and in the span of 25 years we are in the fourth cycle of NAAC accreditation. With autonomy, SLCS has framed its own new programmes of studies and adopted innovative methods, to meet the current industrial requirements and mainly to become Employable. It has been recognized as a premier institution of higher learning for job-oriented courses. The programs like B.Sc. Animation, B.Sc. Viscom (Film & Television Production specialization), B.Sc Marine Catering & Hotel Management are among its strengths. Located at the cutting edge of knowledge, SLCS has not just kept pace with the changing world, but has been the pioneering spirit behind many innovations in the field of education. SLCS students are empowered with professional competence, an ability to assume positions of leadership with ease. The College offers job-oriented programs, extra-curricular activities and technologically advanced facilities accessible to the faculty, the students and the support staff. Here, each individual is encouraged to step beyond the confines of academic and administrative disciplines to explore and intervene in the larger interests of the SLCS community that thrives on participation and the desire to venture into newer vistas.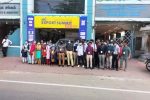 January 8, 2022
Students from ZEAL, an Association of BBA Department, Subbalakshmi Lakshmipathy College of Science,…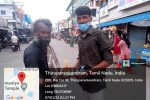 January 7, 2022
The Department Marine Catering and Hotel Management organized an extension activity on the…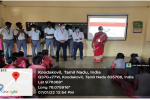 January 7, 2022
Mr.M.Athigopal and Mr.V.Deepan Chakkaravarthy of the Department of Networking along with five students…
TESTIMONIALS

K.Gopivasanth
Modern Trade Account Specialist - Hindustan Unilever Ltd
It has excellent infrastructure facilities, library and systematic process which help one to grow professionally and personally. We always feel proud to be an alumnus of SLCS.

S.Karthick Raj
Executive - Equipment Management - CMA CGM
memorable experience for my lifetime. I am very grateful to the Faculty members, the Placement cell and the Management of SLCS which helped me to get placed in CMA CGMSSCI. It is purely the quality of education that helped me to evolve as a student and a better human to this society.'

Uma Palaniappan
Client Service Executive - Ad2pro Media Solutions, Chennai
joining I was happy that I've chosen a perfect one which suits me and also got very talented and supportive faculty members.  College is probably one of the first huge milestones in life I'm happy that I'm taking my career in a right way. Thanks for each and everyone who supported me to achieve in my life and special thanks to my faculty members for guiding me in a perfect track. My three years at SLCS have been excellent and a memory to cherish for my lifetime.

Surya.M
JUNIOR GAMING CONCEPT ARTIST - ZVKY DESIGN STUDIO BANGALORE
I learned many things and even I have got chance to attend many workshops and meet with some senior artists and clarify my doubts. I have got placement in the field I want and enjoying my working.

B.MUKIL PRABU
City Union Bank Pvt. Ltd
The academic experiences with a world class infrastructure and excellent faculty at Subbalakshmi Lakshmipathy College of Science have endured me with a lifelong career excellence. The exceptional programmes and teaching methodologies backed by practical skills and industry interface have given me the confidence to pursue my career ahead.

SP Karthick
Managing Director - Kumbakkarai Restaurant Nungambakkam ,Chennai .
The academic experience with a world class infrastructure and excellent faculty at SLCS had endured me with a lifelong career excellence. The all-time support and motivation of the faculty members of HMCS department had also enlightened me throughout the beautiful journey.

Ramit Rajvanshi
Front Office Executive - Applo Hospital Mumbai
The best training lab facilities and a very focused teaching method, practical training given  by the department has made me what I am now .  Thank you  SLCS for molding me.

Ramesh A
Scientific assistant - SAC- ISRO Ahmedabad.
The best training lab facilities and a very focused teaching method, practical training given  by the department has made me what I am now .  Thank you  SLCS for molding me. The journey was awesome, It also gives the opportunity to students to showcase their talent. Since the Faculty members are from industries, they were and even now they are capable to give right exposure towards the  industries . I spent my three years in this institute and these years are unforgettable one in my life.
Renuga Varshini
Asst .professor - MCC,Chennai
Hello I am a professor RenugaVarshini and am proud to be an alumni of SubbalakshmiLakshmipathy college of Science batch (2012-2015). I gained more knowledge about the industry and it gave me a vast exposure about the feild openings. I am sharing my knowledge effectively to the next generation which is possible only because of my college and my department. I wish the new aspirants of the department to flourish with colours. Thank you .

M.Pavithra
Graduate Trainee - HCL
The examinations and tests were conducted regularly to test our knowledge. There are five computer labs for our department students and there are reference books in the library which are all very well maintained. . I attended my four month internship in MAVEL Technologies Pvt Ltd with 5000 stipend for each month, where i have gained my industrial experience.

M Samaya Manthra
Graduate Trainee - HCL
I am pursuing  III-year B. Sc Networking in SLCS I have completed my schooling (L K G -XII) in Krishnammal Ramasubbaiyer School. After my schooling I joined B. Sc Networking course This course also provides international certifications like RHCSA, Microsoft Certification , CCNA , Comp Tia N+. I have done my internship at A&T Video Networks Pvt, Ltd , Madurai.

Praveen
Safety Officer - Insulation Engineering Industry
I joined this college for very good perspective reason and that was I wished to get work on reputed organization Currently I got selected Safety officer in Insulation Engineering Industry at Qatar. I wish for my juniors to get a job as safety officer to have a bright future.

Shanmuga Priya
Multimedia Producer - Asiaville Tamil channel
I wishes to become journalist and I have started preparing myself and now my wish has been fulfilled. For this i would like to thank all my college and department professors. According to my growth from Assistant Producer to Multimedia Producer within two years is a very big thing and all my professors are the reason behind this success. Because they shared the current situation of media out of the box.
OUR TOP RECRUITERS